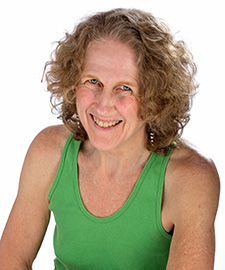 I have always been an artist and do-it-yourselfer.
When I graduated from high school I made the mistake of thinking that if I did my art for money it would spoil it. What I didn't realize was that if I didn't do it for money there was a good chance it would get crowded out of the picture. This led me on the path to life getting in the way— and multiple careers having little to do with art.
In 2003 I was feeling trapped in my dead-end job at the bookstore when I was almost killed in a car accident. I had been wanting to change jobs for years, and when I returned to work months later it became clear to me that life is too short to not follow my dreams. I went back to school full-time to finish my degree.
I knew I wanted to do web and graphic design, and the entire time I was in school I had a steady stream of people coming to me
with their stories of website frustration.
They needed one but wanted someone they could trust.

Their business was suffering and their website wasn't doing it's job.

How totally overwhelmed they were whenever they tried to wrap their brains around the whole web marketing /search engine /social networking Bermuda Triangle.
I wanted to help these people and was totally guilt-ridden because as a student I had no time to spare — and I was humbled by the fact that they all trusted ME. This also made me realize that, as much as I love digital design, sitting in front of a computer all day every day wasn't going to be the best way to meet people's needs.
To be truly effective I needed to add in a coaching element to provide some guidance. This is how Findable Design LLC was born.
Now through Findable Design I can give back and help people with their websites,
demystifying how internet marketing fits together, and
by helping business owners to tell their stories, bring success to more lives and businesses.